Baby Safety tips that everyone should know about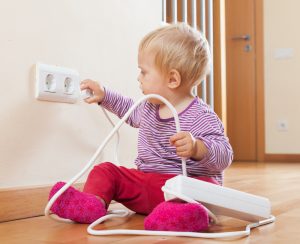 "Our home is definitely the safest place on Earth for our family." Keeping our families safe and sound is more than a priority, it's who we are and it drives everything we do. Most of us would agree with this. But that's not true.
There is a sense of responsibility that we work hard to fulfill, seeking out the most current information and advice on how to protect ourselves and our family members in every situation. Babies and young children are naturally curious and you will need to assess your home for lurking dangers. In India, more than one million children are taken to hospital after being involved in an accident in the home every year. Those most at risk from a home accident are children under five years old.
Baby proofing your home is a major concern — and rightfully so.
With all the technology, gadgetry, electronics and home offices; many parents of young children recognize these dangers: exposed dangling wires, a birds nest of wires and cable wires along baseboards and sockets. You want solutions to protect your unsuspecting crawling baby or curious toddler from falling prey to a preventable injury. As a professional child proofer, we know the potential danger of wrapping a wire around a neck, putting fingers in sockets or pulling on a stapled cable wire can be trouble. Parents can use Socket Covers, Wire Management and Light Covers to prevent children from inserting articles or fingers to sockets, and causing danger of an electric shock.
Kids start fiddling doors, windows, cabinets or drawers and want to explore the world around them, but their curiosity can lead to serious injury. Why not use Door Locks, Window locks, Drawer locks? They prevent children from opening the drawers and your important stuff is safe. Even Multi- Purpose Lock is applicable for various household appliances like Cupboard, Refrigerator and Drawer. It's an easy way to manage your stuff. It prevent child from injuries. Bed Railings and Stair Fence can help new moms to concentrate on their work while their kids are sleeping or playing.
As per survey drowning and suffocation are the main causes of fatal accidents for children aged less than four, while falls account for most non-fatal accidents. Baby Infrared Thermometers is there which have senses, built in timer and beeps ready. They are monitor that records baby's movements. There are temperature sensors for Feeding bottles, spoons or bowls and even diaper change alarms. This makes you really happy, isn't?
Kids are going to fall, crash and slip and tumble. It's all part of being a kid, and we wouldn't want it any other way. But there are little things we can all do to ensure that kids avoid the more serious injuries that can lead to disabilities and even death.
So don't wait until disaster strikes before you think about safety. With careful planning and a little equipment, you'll be prepared for when your baby is ready to explore.
View All...